Not to date either of us, but I met Pedro eons ago. We were both new to NYC. I was working behind the camera in fashion and he was working in front of it as a model. Our lives have taken many twists and turns since, but always on the upward trajectory. I talk to Pedro about how exactly he went from a child in Rio to where he is now - a top rated TV Host with hundreds of thousands of followers, and all around explorer of the planet.
Can you tell us a bit about your background? I was born and raised in a lower middle class family in Rio, went to school for journalism in Brazil, left the country as a model (never really had the desire to succeed in that career but knew it was a decent opportunity). Once in NY, a place I have always been passionate about, I worked as a bartender, a dog walker, a bus boy and the list goes on. Eventually, I landed a job as a correspondent on a lifestyle website called Code TV. After that, I was hired by NBC's local affiliate in NYC, then national, and then I became an anchor working at Rockefeller Center for four years.
Since then I have joined Manhattan Connection - one of the most respected news shows in Latin America and I co-host a weekly debate about all sorts of topics from geo politics to culturally relevant subjects. I also anchored a morning show on Fusion for two years, worked at ABC and now have my own travel show Pedro Pelo Mundo.
What was your 'gold lining' that lead you down the path to this point in your career? Ever since I was a child, I have always been able to distinguish very clearly between the areas I should invest my time, from those that I shouldn't pay attention to. I am awful when it comes to sports, home improvement, technology, etcetera, however, I have always enjoyed telling stories, meeting people and traveling. I think once you understand what makes you happy and what does not, it is easier to make life-changing decisions.
I also never looked for shortcuts. I couldn't point out one specific job that has catapulted my career. It's always been a slow and steady progression. Hard work, determination and patience pays off.
How did you get to where you are today? I have always known where I wanted to get, treated people with respect, worked hard, was humble enough to listen and learn from others, tried to have a positive attitude regarding everything (the good and the bad) and kept the eye on the prize.
What does a typical day look like for you? It's tough to answer this question because, even though I am a creature of habit, I work on a number of different projects at the same time. Right now I am writing my second book, I work for the American market, I have a political show and I anchor my own travel show that takes me to places going through irreversible transformations (from Myanmar and Cuba to Egypt and Tanzania), so, answering your question, depending on the time of year, could mean very different things. Lately, I have been waking up early (always), practice jiu-jitsu (my addiction) or work out, read the news, work on the post production of the third season of my show (I'm part of every single step of the process), study for the weekly debate, write a little, talk with both of my agents; the Brazilian and the American; film daily for different shows and by the time I am done I have a martini around 8 pm. After that, I usually have dinner somewhere around my neighborhood (I can't cook at all) and go to bed.
Of course, when I am filming the travel show, there is no routine whatsoever.
It's a good life. No complaints.
Who or what inspires you? People. I usually say that some of us like sports, others animals, plants, food... I like PEOPLE. On my show, one of the most exciting aspects is finding the right voices to tell the right stories. We always seek "characters," those that tell a bigger story than their own: a transgender woman in Saudi Arabia, a prostitute in Tokyo, a Syrian refugee in Berlin, a North Korean refugee in Seoul, someone who has gone through a genocide, or even suffered with the repercussions of gentrification, etc. But, we also must leave room for spontaneity. Quite often I get in a cab in Hanoi (for example) and the driver has the most fascinating story or I stop to grab a bite at a street food stand in Cairo and the cook speaks passionately about the Arab Spring. These are the voices that inspire me to do what I do. I have learned so much from these spontaneous encounters, from those that are generous enough to open up to me with absolutely no expectations. I would say these exchanges have definitely influenced every aspect of the man I have become.
What has been the most exciting moment in your career to date? I wouldn't be able to choose. So much has happened in the past decade. I have learned so much every step of the way. I'd rather be excited about the entire body of work - and I don't mean that only professionally, but also on a personal and emotional level.
How has the space changed since you first started? When I started, being Brazilian (or Latin) was a huge disadvantage. Having an accent was a massive flaw. The world wasn't nearly as globalized as it is today and journalism, as a whole, has changed immensely. Reporters cannot talk down on the audience any longer. Today, 'relatability' is a priority. Aside from all that the Internet showers us with information constantly so the speed of things has changed drastically as well. I am not a nostalgic person by nature and I have a really tough time with people that live for "the good old days". This moment we are living in is exciting and in spite of the hatred and division on the political sphere, I believe something really incredible is about to happen.
As someone who has done so many different things, what is the secret to your success? Success is subjective; therefore, I avoid referring to myself as successful. I keep doing what I love and try to make my peers proud. I don't waste time comparing myself to others, regretting past decisions, reminiscing about old days, worrying too much about the future or paying attention to what others are doing. I'm humbled by the opportunities I have had and utterly thrilled by what's to come.
In moments of self-doubt or adversity, how do you build yourself back up? I've learned more from my falls then from my victories. Constructive criticism is so much more useful than praise. Throughout my career, and life, I've come to realize that often our disappointments end up eventually leading us to where we are supposed to get to in the end. So if something doesn't turn out the way I wanted, I force myself to keep moving forward. The worst thing you can do in one of these painful situations is to take it all personally and anchor yourself to self-doubt and insecurity.
In your life and in your line of work, how do you define success? I'm gonna have to quote Maya Angelou on this one: "Success is liking yourself, liking what you do, and liking how you do it."
What quotation or saying inspires you and motivates you to be yourself and do what you love? To be honest, I'm not a big self-help book guy or motivational TED talk watcher, but I understand the power some of these messages have on people, so I applaud those who have built an audience by spreading positive thinking and those who have improved their lives by following these guidelines.
I'm not a religious guy at all. As a matter of fact, the more I travel, the more I see how divisive organized religion has been in our history, but, I do respect individual choices and I'm well aware that what works for me isn't necessarily what works for others.
I'm a man of simple pleasures. I am grateful for the life I have, I don't take for granted the people in my life and I really make an effort to try to be light person... I've become pretty averse to drama overall.
What characteristics do you admire most in creative women and men? Curiosity and courage.
Is there anything exciting coming down the line for you we should keep an eye out for? So much! Like I said, I am writing another book, the third season of my show will start airing on Globo early 2018 and I am talking to a couple of networks in America to launch another project in the US in the near future. I'll keep everyone informed via social media @pedroandradetv : )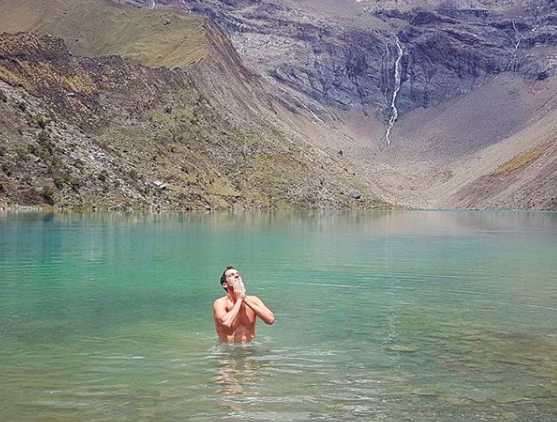 Fun Facts:
What are some of your go-to spots in NYC/Miami? NYC - Barbuto, Polo Bar and Standard Grill and Miami - Lucali.
Name three women/men who inspire you the most? Michelle Obama, Malala and my grandmother.
If you could invite anyone over for a home cooked meal, who would it be and what would you make? I would not put my beloved guests through my horrible cooking, but I would take them out to an unforgettable dinner in NY. I am blessed to have a really incredible group of friends, but I can't stand large parties, so I'd need a few dinners to take everyone out in small groups. Aside from my group of close friends, I'd love to have dinner with the Obamas; Trudeau and Macron could come by for drinks.
What is your philosophy on self care? What would you say is your number one self care tip? I'm a pretty low maintenance guy. I work out with my beautiful personal trainer @dalilakindermann as much as possible. When it comes to my skin I use IS Clinical @ISClinical and visit one of my closest friends, the best esthetician in NYC, FabricioOrmondeSkincare. I also stay hydrated by drinking a gallon of water everyday and make an effort to be a happy person. That pretty much does the trick.
What is your sign? Aries with Scorpio.
Minimalist or maximist? Right in the middle.
What do you collect? If I tell you I have to kill you.
Dream dinner party guest? Barack
Recent discovery? The work of Robert Longo at the Brooklyn Museum.
Favorite Apps? Instagram and Whatsapp.
Do you have any daily practices? How do you incorporate these practices into your everyday life? I live by lists... Write one every night before I go to bed and read it first thing in the morning. JIU JITSU has changed my life. I'm obsessed with it right now. I train with the best of the best at Renzo Grancie Academy in Manhattan @renzogracieacademy . My teachers @gregorgracie and @renzograncie will probably never know how much they have already positively impacted my everyday.
‍
Be sure to follow his travel at: https://www.instagram.com/pedroandradetv
Images courtesy of Pedro's Instagram